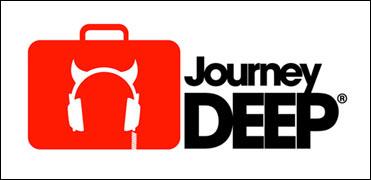 JourneyDeep (J Powelson) has always been surrounded by all facets of music. In the mid-nineties, his father founded the Associated Recording Group (ARG!) in Denver, Colorado. Dave mixed albums for many famous acts, one in particular that gained notoriety was the group Dispatch (One Fell Swoop), and even played as a studio musician for the Drugs! project promoted by Parliament/Funkadelic. JD spent countless hours with his father in the studio. Rather than going home after school, he was always headed to the studio where his father was running a session. He would do all of his homework there, play video games and eventually pass out on the couch in the control room with heavy metal blasting over the monitors. "Dad would eventually wake me up in the wee hours, so I could get a few hours of sleep in my own bed. The next morning we would wake up and do it all over again." – JD
Throughout the college years, JD lived in Central Florida, where he was exposed to electronic music and made a few friends along the way. His father was always pushing me to do something with music, and while he was attending the University working toward his BS, he made a few friends who were promoting live events. Eventually he started helping out with live productions and was the man responsible for recording our shows and broadcasting them on-line via the JourneyDeep website (JourneyDeep radio was launched in 2004). Over time we began moving away from live productions and started focusing on studio productions. The radio station and live broadcasts went to the wayside, and we launched our JD Podcast for JourneyDeep Music.
DJ/Producer JourneyDeep has been focusing on his own productions and tearing down barriers ever since leaving Florida around 2007. He is back out west, near Denver where the electronic music is thriving. While the progressive music has evolved, so has his talent and JD is kicking out new mixes just about every week. JourneyDeep plays music that he is passionate about. He has a true passion for the progressive sounding music and plays and listens to the music that he cares about most. There is nothing else playing whether at home or in the car, it's 24/7 progressive house, tech house… progressive breaks. We eat live and breath "real progressive house." Other areas of involvement are JourneyDeep Music (recordings), JourneyDeep Productions (live productions), JourneyDeep Publishing, and of course the website still exists – journeydeep.net.
Enjoy the musical creations of JourneyDeep and our mixes on Facebook, SoundCloud, Mixcloud, Mixlr, Intellidm, and here on our website JourneyDeep.net.
Presenting the Series "Balancing Point" by JourneyDeep
PODCAST: pcast://feeds.feedburner.com/journeydeep/deepcast